HME Filter (FOR USE WITH VENITILATOR/RESPIRATOR)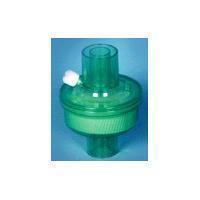 Product ID: SK203
Single adult patient use on anesthetized patients and respiratory care patients who require a breathing circuit. The product is intended to be replaced at least once every 24 hours.
» Specifications:
Recommended Tidal Volume: 150ml ~ 1200ml
Temperature (ISO 9360-1)

Vt 250ml: 32°C
Vt 500ml: 32°C
Vt 750ml: 32°C
Vt 1000ml: 32°C

Absolute Humidity (500ml Vt, 20BPM): 36.8mg H2O/L
Dead Space: 45ml
Bacterial Filtration Efficiency: 99.99%
Virus Filtration Efficiency: 99.99%
Resistance to Flow (ISO 9360-1)

15l/min, 30l/min, 60l/min: < 1.0cm H2O < 2.5cm H2O < 3.5cm H2O

Filtration Media: Electrostatic
Filtration Surface: >22cm2
Weight:30g
Housing material :Polypropylene transparent
Product:PVC free / Latex free
Sampling port:Luer lock
Sterile: Gamma/E.O Gas
» Features:
Combined Filter/HME reduces set-up time, minimizes dead space and weight on endotracheal tube and circuit while maximizing efficiency.
Electrostatic Hydrophobic membrane protects against cross-contamination.
Hygroscopic membrane traps patient's moisture providing effective airway humidification.
Low resistance to airflow minimizes work of breathing.
Effective moisture control reduces the risk of colonization in breathing tubes and minimizes sampling line blockage.
End tidal CO2 sampling port offers convenient access to airway gases.
ISO standard 15mm and 22mm fitting connects with breathing system.
Treated with physiologically safe calcium chloride.
Patient/Machine end.